We Approach Eye Health with Proactive, Compassionate Care
At Precision Eye Care, we're dedicated to helping our patients protect and enhance their vision throughout every stage of life. We can use our expertise to diagnose and help manage a wide range of eye conditions. By utilizing technology, we gather comprehensive information about your individual eye health, so we can provide personalized care to meet your vision needs.
Through our personalized approach, we can empower you and your family to take a proactive stance toward eye health.
Schedule your routine eye exam today, and let us support you in preserving and enhancing your vision.
Book Appointment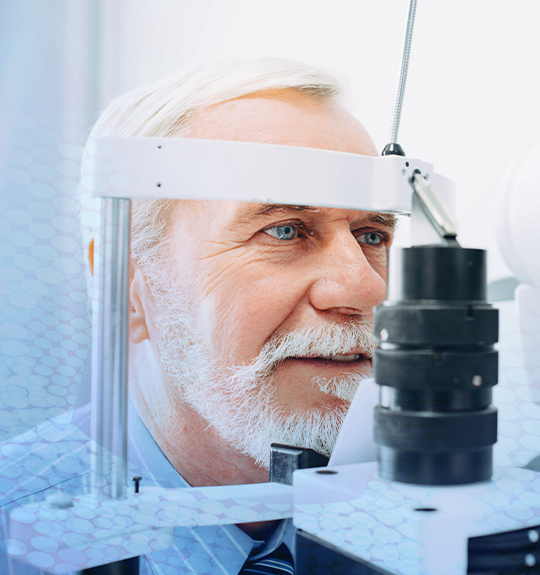 Eye Care Supports Your Overall Health
Eye exams can offer crucial insights into your eye health and overall well-being. We can examine internal tissue and blood vessels through diagnostic technology, facilitating early detection of health conditions like diabetes, hypertension, stroke, and autoimmune disorders.
Timely identification and proactive management can significantly enhance your vision and general health outcomes.
Diagnosing Eye Health Through Technology
The eye is a remarkably intricate organ with a lot going on beneath its surface. We can examine the inside of the eye with quick, noninvasive imaging techniques thanks to diagnostic technology. By capturing intricate details at the back of the eye, such as blood vessels and nerve tissue, we can gain invaluable insights into your vision and overall health.
Precision matters when it comes to your vision. That's precisely why we're committed to pursuing accuracy, allowing us to customize our management and treatment approaches to your individual needs.
Optical Coherence Tomography (OCT)
Optical coherence tomography (OCT) is a noninvasive imaging technology that captures high-resolution, cross-sectional images of internal eye structures. By analyzing multiple layers of eye tissue, we can gain valuable insights into changes in your ocular health.
With the invaluable information obtained from OCT, we can offer a customized approach to eye care. From proactive prevention to timely treatment, we can support your eye wellness through every stage of life.
Optomap Retinal Imaging
With optomap ultra-widefield retinal imaging, we can complete a thorough examination of the inside of the eye. The optomap technology captures an extensive field of view, scanning a complete 200 degrees with a quick flash of light.
The retina, located at the back of your eye, is the only place in the body where blood vessels are directly visible. An in-depth, detailed look at these blood vessels and interior eye tissue can be immensely valuable in detecting and monitoring various health conditions, ranging from diabetes to macular degeneration.
Humphrey Visual Field Analyzer
Visual field testing, or perimetry, assesses an individual's full range of vision, including peripheral vision. Peripheral vision allows us to perceive our surrounding environment without eye or head movements.
During a visual field test, patients are asked to identify visual signals while a computer accurately records their individual responses. This comprehensive visual field analysis can be crucial in the early detection of vision loss and blind spots, which can serve as indicators for underlying eye conditions like glaucoma.
Precision Through Personalization
At Precision Eye Care, we know healthy eyesight can play a crucial role in a comfortable, fulfilling life. That's why we're committed to providing a truly personalized approach to eye care. Everyone has their own distinctive and specific needs, and we take the time to precisely customize your care.
Visit us today, and let us help you and your family maintain healthy vision.
Book Appointment
Our Location
Find us on the corner of Doctors Drive and Orchard Avenue, just off US Route 50. Free parking is available in our spacious lot.

Our Address
107 Doctors Dr

Bridgeport

,

WV

26330
Hours of Operation
Hours
Monday

:

9:00 AM

–

5:00 PM

Tuesday

:

7:40 AM

–

5:00 PM

Wednesday

:

7:40 AM

–

5:00 PM

Thursday

:

7:40 AM

–

5:00 PM

Friday

:

7:40 AM

–

5:00 PM

Saturday

:

8:00 AM

–

12:00 PM

Sunday

:

Closed
24-hour coverage is available for eye emergencies.
Book Appointment
Our Brands
Discover eyewear that reflects your personal style.
We're proud to offer an extensive selection that caters to diverse preferences and lifestyle needs. Our collection showcases quality frames and lenses, including many exclusive designer brands not found elsewhere in the state.
Whether you need trendy everyday glasses, prescription sports goggles, or safety eyewear, we've got your options covered. With Precision Eye Care, you can experience the perfect blend of style, functionality, and exceptional vision.